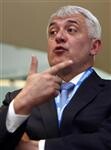 PODGORICA (Reuters) - In the central bank governor's wood-paneled office with its beige couch and chairs around a Queen Anne coffee table, the man reached into his briefcase and pulled out an envelope full of cash, offering it expectantly to then-governor Ljubisa Krgovic.
-
By Adam Tanner
It was 2008, right at the height of Montenegro's property mania, and the visitor, an emissary from a local company, evidently hoped to win special treatment. Such transactions are not unusual in Montenegro, which ranks 69th on lobby group Transparency International's corruption perceptions index. Indeed, bribery has become so normal in Montenegro that it seemed almost impolite for Krgovic to decline the offer. The former bank boss remembers squirming as he refused the money.
"It is very difficult to tell him directly," he recalls. "I said 'Please, with this money, please support something else; we will deal with this professionally.'"
Such restraint was rare during the Wild West real estate boom that swept the tiny state of 670,000 around the time it peacefully broke away from Serbia to become independent in 2006. In many ways, Montenegro's go-go years were a microcosm of the best -- and most especially the worst -- of the property booms and busts of the past decade: cheap money, lax rules and oversight, outrageous price rises followed by calamitous falls.
As the country made the transition from communist rule to raw capitalism, investors, including Russians bearing suitcases of cash, arrived to buy up waterfront properties on the Adriatic.
Crime helped fuel the boom. According to a 2007 report by the U.S. Bureau of International Narcotics and Law Enforcement Affairs, "illegal proceeds are generated from drug trafficking, official corruption, tax evasion, organized crime and other types of financial crimes... Proceeds from illegal activities are being heavily invested in all forms of real estate."
In diplomatic cables obtained by WikiLeaks and seen by Reuters, then U.S. Ambassador to Montenegro Rod Moore described the country as corrupt right through. "Few countries in Europe have as bad a reputation for fighting corruption as Montenegro," he said in a September 2009 cable. "Egregious weaknesses include extensive cronyism and nepotism, weak controls over conflicts of interest, perceived legal impunity for individuals linked to the ruling parties, and the failure of the judicial system to effectively and consistently punish corrupt officials."
Krgovic's emphasis on professional standards stood out -- and is why, he says, he was dismissed last October. Six months on and angered by what happened to him, he has agreed to speak out.
"We are going backwards at the central bank. We are putting the administration under political control," he said. "If you want to attract foreign investors, you need equal treatment. That was my goal."
The government has not said why it sacked him, though the move came as part of a broad restructuring of the central bank. Last year, Igor Luksic, then the finance minister and now the prime minister, ushered in a new law to govern central banking.
Krgovic says he simply angered key players, in particular those connected with one of the country's biggest banks -- and fears he could still suffer consequences.
"They have many ways to influence if I want to stay in Montenegro and work here," he said. "It will be very difficult."
As the country toils to meet the criteria for European Union membership, Krgovic's case -- he calls it a "public war" -- shows just how hard it is to purge corruption and conflict of interest where it has taken hold. Tiny Montenegro may not matter in the big economic picture, but as a symbol of what ails the Balkans and other parts of eastern Europe, it's hard to beat.
"Corruption benefits a small elite but it poisons the well of democracy, sucks the life out of a society that is trying to build a strong and vibrant country...and ruins its chances of joining the EU any time soon," said one EU diplomat in Brussels.
REAL ESTATE MANIA
These days, the 53-year old Krgovic spends much of his time at his family's two-hectare vineyard three km (just over a mile) northwest of the Montenegrin capital Podgorica. There, on a property with a house that overlooks rows of vines and 100 olive trees, and a storeroom of some 10,000 bottles of wine, Krgovic can watch sheep wandering in nearby fields and neglected Roman ruins that date back to the first century AD.
A Communist party member in the old Yugoslavia, Krgovic says he feels betrayed by the direction the new Montenegro took. "I am angry at myself only because I did not recognize what would happen," he says. "I spent 10 years to build a system, to build an institution, and in the end they destroyed that. I spent too much energy, too much for nothing."
From 1996-99, Krgovic served as Yugoslavia's vice central bank governor: Belgrade had just experienced the highest inflation in history and Krgovic was part of the team that introduced a new currency and other measures to stabilize the economy.
Krgovic said he has always refused bribes. As tensions with the government raged in 2010, some local media reported that Krgovic received government subsidies for his vineyard. That's true, he says, but he applied as any normal citizen would.
Though Krgovic was an intimate of the country's dominant political figure Milo Djukanovic for two decades, including service as a deputy prime minister from 2000-01, international experts say they know of no credible allegations linking him to corruption. Even the fact he is ready to talk about the offer of bribes -- Balkan leaders routinely say they have never been made inappropriate offers -- sets him apart.
"A hundred percent sure? You never are. But I am not aware of anything that is particularly worrisome," said Jan-Peter Olters, the World Bank's local representative. "I found him very straightforward. I don't think he would make anything like this up." When Montenegro, which was slowly pulling away from Serbia, got its own central bank in 2001, Krgovic set about trying to clean up the system and build a modern regulatory body. It was no easy task. Montenegro does not issue its own currency; without euro zone approval, it has adopted the euro. While that means its currency is far more stable than those of some of its neighbors, it prevents the central bank from adjusting interest rates. A euro-based economy is also attractive to money launderers, because no exchange has to take place to make euro deposits.
As elsewhere around the world, the mood of the times worked against sober rule-building and financial prudence. Annual economic growth in Montenegro between 2006 and 2008 averaged 8.7 percent. Banks stoked the boom, expanding lending from 375 million euros in 2005 to 2.8 billion euros in 2008, according to central bank data.
From the biggest fish to the average person, Montenegrins were swept up in the mania, using loans to speculate on shares, houses and land. "No one was concerned at the time about risk," said one Montenegrin banking official. "Everyone went crazy, everyone wanted to buy apartments."
POLITICAL INTERESTS
Foreign banks such as the now-nationalized Austrian firm Hypo Group, the Hungarian-based OTP and France's Societe Generale led the charge. But Krgovic and his colleagues at the Central Bank grew especially concerned about Prva Banka, the biggest domestically owned bank and the second largest by assets at that point after OTP's local bank CKB. Lending standards at Prva, whose motto on its website is "Come to us to make a deal!," had become particularly lax, Krgovic and others worried.
"Experts assess that the bank's liquidity problem is a result of rapid and uncontrolled growth of deposits, credits, and investments," a U.S. government cable from November 2008 said. "Prva Banka's assets in June 2006 were 29 million Euros and grew to 546 million in 2008, leaving many to speculate how one bank in a small country could grow so much, so fast."
Krgovic felt compelled to act. "When banks have liquidity and solvency problems, you need to impose some measures," he said.
In retrospect, experts said he did too little, too late, but taking on Prva at all put the central banker on a collision course with the country's most powerful men. Prva was about half owned by the family of Prime Minister Milo Djukanovic. By the end of 2008, Milo's brother Aco was by far the largest shareholder with 46 percent; Milo had 2.86 percent, and their sister Ana had one percent, according to a U.S. embassy cable from February 2009. Montenegrin state power group EPCG owns more than 18 percent of the bank.
In 2007, Milo Djukanovic -- at that point between stints as prime minister -- used what he was about to own in the bank as collateral to get a loan to buy shares in Prva Banka, according to a U.S. diplomatic cable.
Typically banks would reject the acquired object as the entire collateral because the purchased asset could decline in value.
But Milo Djukanovic "took a 1.5 million euro loan from an obscure London bank to purchase shares in Prva Banka through his company Capital Invest," a U.S. diplomat wrote in a 2009 cable.
THE COLLAPSE-AND A RESCUE
In a small country where family and social connections matter and business often takes place at cafes and restaurants, fortified by coffee, drink and cigarettes, it's fair to say that transactions may not always conform to international standards.
During the boom years, deals commonly came with some sort of kickback, according to two private banking officials, who spoke on condition of anonymity. Corruption was so commonplace, they added, that it became part of a bank's lending process as well.
"They just kept pouring in, the bribes," says one banker who expressed concern about the practice. "It could be anywhere from five to 25 percent," of the overall value of the loan. "There was no real percentage -- it was at the discretion of the client."
A prospective borrower might telephone with a seemingly innocuous question. "Shall we see each other?" the person might ask, or "should we have a coffee?", according to an official who received such calls. Another says a bank would often receive a "thank you" gift after approving a loan, such as flowers or a bottle of wine accompanied by an envelope of cash.
It worked, until it didn't. When Lehman Brothers collapsed in September 2008, the resulting global financial crisis led to a run on Montenegrin banks, with depositors pulling 30 percent of their holdings, according to Krgovic. As a major lender, Prva Banka was badly affected.
To calm the markets, the Montenegrin government guaranteed all personal and business deposits without limit. Prva Banka received special support. In December 2008, the government gave the bank an emergency liquidity loan of 44 million euros, which Prva has since repaid. Djukanovic, who was by then prime minister again, has repeatedly said he acted in the best interests of Montenegro, not his own portfolio.
In a December 2009 Reuters interview, Djukanovic said that he had sold off most of his shares in Prva Banka before the start of the world financial crisis. "It was a good situation on the market, so I could sell them and pay off the bank to which I was indebted," he said.
He also defended the government's loan to the bank. "I understand that the circumstances that my brother is one of the biggest or the biggest owners of the bank was especially intriguing," he said in December 2009. "But I don't understand the request that the bank should sink. We should extend a hand to whatever bank needs help, whoever are its shareholders."
Despite repeated requests, Djukanovic was not available for comment on this story. A spokesman for his political party cited his busy schedule ahead of an upcoming party congress.
Prva Banka officials have consistently denied that it received special treatment. CEO Predrag Drecun, in charge since August 2009, rejects the charge of favoritism. Deposits from the electricity generator and supplier EPCG account for about a quarter of Prva's portfolio while another 10 percent come from state entities, he told Reuters. "It is ridiculous; this opinion is a burden on this bank. Everybody thinks you are privileged, that you have a start advantage. No. We have no mother bank. This is our... disadvantage in relation to other banks," he said.
But according to Krgovic and other critics of the government, including officials at rival banks, government entities to this day favor Prva by keeping large short-term deposits there earning little interest even as the government has taken out expensive loans elsewhere. Unlike neighbors Serbia, Kosovo, Bosnia and Macedonia, Montenegro did not take an IMF loan that offered cheaper rates than commercial borrowing but would have come with stringent conditions, including tough banking regulations. It has turned to more expensive Eurobonds instead.
"Why are we paying eight percent to borrow, when we are keeping so much money in that bank?" asks Krgovic.
THE END GAME
International officials, investors and local rivals have long expressed concern about the impact of Prva Banka on Montenegro's economy. "It has proven a challenge for public institutions to make certain that commercial banks are treated uniformly, irrespective of whether they have close personal links to the executive," Olters of the World Bank told Reuters.
Nobody understands that challenge better than Krgovic. In October 2008, just before Prva took its 44 million euro government loan, the central bank barred it from making new loans.
Krgovic had known Djukanovic since their university days and later served as the prime minister's economic adviser. But it was time to act. The special treatment, he argued, had cost "a huge amount of public money" and if the country's central bank did not function as an adequate regulator Prva's problems could infect the broader economy.
It was a fight he was destined to lose. After the central bank's decision to bar Prva Banka from making new loans, Krgovic says a key Prva bank official met some of his close friends to pass along a message: desist or lose your job.
"They said I will pay -- what am I doing?" he recounted. "They wanted special treatment."
Bank CEO Drecun declined to comment when asked about Krgovic's description of this attempted intimidation.
Last October, soon after parliament shortened his second six-year mandate, Krgovic was replaced by Radoje Zugic, who had stepped down from the Prva Banka board just months earlier. This February, the ban on Prva making new loans was partially lifted.
A PROBLEM FOR EUROPE
As his German shepherd barks from inside a cage at the foot of the house, Krgovic reflects on what he left behind. He had earned 3,800 euros a month after tax as central bank governor, a princely sum in such a poor country. He had jetted around the world as part of government delegations. He had been driven everywhere in his own government car. Now he drives himself in a second-hand Volkswagen Passat.
"It was a one-year public war," he said. "I spent 10 years to build the institution, to build confidence. What did I get in the end?
"I spent the best part of my life and what are the results?" he continued. "Politicians including Milo want to control everything; I tried to develop a different part of the system, according to the law."
Radoje Zugic, the new central bank governor, criticizes his predecessor for failing to stop the real estate bubble and rein in overheating banks. "In retrospect, we can say that one should probably have reacted earlier," he told Reuters.
Igor Luksic, who took over as prime minister last December, says that the image of Montenegro as corrupt is misleading. "I just don't believe in many stories that I hear and I treat them rather as gossip," he said. But in its annual report on Montenegro last November, the European Commission said "corruption remains prevalent in many areas and constitutes a particularly serious problem." EU concerns about crime and rule of law are one of several key issues slowing the progress of the region, including in Croatia, which is next in line to win membership in the bloc.
Investors have repeatedly said corruption, a lack of transparency, and uncertainty over whether they can gain a fair and speedy hearing in the court system if a deal goes bad have deterred many from coming to the emerging Balkans.
"Someday, somebody will be guilty for this," says Krgovic.
Luksic, the new prime minister, plays down the differences between the former central banker and the country's leadership. "From time to time we had policy clashes," he told Reuters. "But I respect everything Mr. Krgovic did for 10 years as central bank governor."
(Additional reporting by Peter Komnenic in Podgorica and Justyna Pawlak in Brussels; Writing by Adam Tanner; Editing by Sara Ledwith and Simon Robinson)