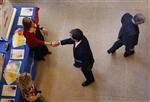 WASHINGTON (Reuters) - Employers hired more workers than expected in September and job gains for the prior two months were revised higher, easing recession fears.
-
By Lucia Mutikani
But the unemployment rate remained stuck at 9.1 percent for a third straight month, keeping pressure on President Barack Obama and the U.S. Federal Reserve to do more to spur the recovery.
Nonfarm payrolls rose 103,000 in September, the Labor Department said on Friday, but that included the return of 45,000 striking communications workers. Excluding those workers, employment increased by a meager 58,000.
"It underscores the belief that the economy has skirted a recession, but that's not to say it's out of the danger zone because there are significant risks out there," said Millan Mulraine, senior macro strategist at TD Securities in New York.
Job growth is still falling short of the pace needed to pull down unemployment, though the report had a firmer tenor than economists had expected. Hourly earnings rebounded, the length of the average work week rose, and revisions showed 99,000 more jobs were added in July and August than initially reported.
The unemployment rate also managed to hold steady despite a surge of new workers into the labor force.
U.S. stocks snapped a three-day rally as a downgrade of Spain and Italy's credit ratings overshadowed the jobs report. Treasury debt prices fell for a fourth straight day, while the dollar rose marginally against a basket of currencies.
Economists had expected payrolls to increase 60,000 last month, with the jobless rate steady at 9.1 percent. Employment growth has decelerated sharply from the first quarter of the year, when payroll growth averaged more than 165,000 a month.
The weak labor market poses a critical challenge for Obama, who faces a tough battle to win reelection in November 2012.
Obama has proposed a package of measures to spur jobs growth, but the plan has run into stiff opposition from Republicans, raising the prospect Washington will be unable to take decisive action.
"It's anemic growth at best, and you don't see anything from this administration that's going to turn it around," Rick Santorum, a former senator and a former Republican presidential hopeful, said on CNBC.
White House officials conceded the jobs growth was not good enough.
"I would not say that we are satisfied in the slightest," National Economic Council Director Gene Sperling told Reuters Insider. "There still is a risk that this economy could stall out or even have a double-dip recession."
The U.S. economy needs to grow by at least a 2.5 percent annual rate, with payrolls expanding by around 125,000 positions a month, just to keep the jobless rate from rising.
RECESSION WATCH
Health care, construction, retail, and professional and business services all contributed to the rise in payrolls, while manufacturing was a drag for a second straight month.
The closely watched report was the latest sign to suggest the world's largest economy was likely to skirt a recession despite weakness over the summer, although prospects for the nation's 14 million unemployed remained grim.
Private employment increased 137,000 last month, an acceleration from August's mere 42,000. But government payrolls fell 34,000 as employment at the local government level fell 35,000 and the Postal Service shed 5,000 positions.
The drop in local government payrolls included a loss of 24,400 education jobs.
Recent reports on manufacturing, business spending and auto sales suggest the economy fared better in the third quarter after growing at an anemic 1.3 percent annual pace in the April-June period, although job growth did not pick up.
Analysts warn that the economy is still not out of the woods, with Europe's debt crisis posing a threat that could derail the U.S. recovery. Industrial output in Germany -- Europe's biggest economy -- fell in August.
PUSHING ON A STRING
The Federal Reserve last month announced new steps to breathe life into the recovery by pushing long-term borrowing costs lower, but economists do not expect the effort to bear much fruit at a time many Americans are unable to access credit.
U.S. consumer credit fell by the most in nearly 1-1/2 years in August, the Fed said in a separate report, confirming the retrenchment by households whose confidence was damaged by a wrenching political fight over the U.S. deficit and steep stock price drops.
Uncertainty over the economic outlook has made businesses reluctant to hire aggressively.
"One of the main problems in the economy is the lack of confidence in economic policies here and in Europe," said Sung Won Sohn, an economics professor at California State University in the Channel Islands. "Most of the cards have been dealt and the politicians have been squabbling among themselves."
While the jobless rate held steady last month, other measures of unemployment grew darker.
The average duration of unemployment hit a record high of 40.5 weeks. and almost 45 percent of the 14 million jobless Americans had been out of work for six months or more, up from 42.9 percent in August.
In addition, a broader measure of unemployment that includes people who want to work but have given up looking for jobs and those working only part time for economic reasons rose to 16.5 percent from 16.2 percent.
But there were also some bright spots.
Hourly earnings rose 4 cents after falling in August; the length of the work week rose to 34.3 hours from 34.2 hours; and job gains were widespread.
Health care and social services payrolls increased by 40,800 jobs, construction added 26,000 workers -- possibly due to rebuilding after Hurricane Irene -- and temporary employment rose 19,400. Temporary hiring is sometimes seen as a harbinger of permanent hiring.
But manufacturing, which has been the pillar of the economy, shed 13,000 jobs, the second straight monthly decline.
(Additional reporting by Mark Felsenthal in Washington; Editing by Andrea Ricci and Leslie Adler)