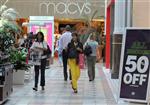 (Reuters) - Brisk back-to-school shopping benefited many U.S. retailers in September, with strong sales growth at chains from Kohl's Corp to Nordstrom Inc suggesting optimism for the holiday season.
-
By Jessica Wohl
Shoppers largely brushed off the prolonged economic malaise and the U.S. East Coast's recovery after Hurricane Irene.
Chains with fresh items enticed shoppers while others were left to question their strategies heading into the critical winter holiday shopping season.
Overall, 23 U.S. retailers posted an average sales gain of 5.1 percent at stores open at least a year, or same-store sales, according to Thomson Reuters.
"I'm not saying it's going to be going to an exceptional or a blow-away holiday, but I wonder if people are being overly pessimistic," Madison Riley, managing director for retail consulting firm Kurt Salmon, said after reviewing retailers' September reports.
The S&P Retail Index rose 1.3 percent on Thursday, outpacing the broader S&P 500 Index's 1 percent rise. (Click here for a same-store sales graphic: http://link.www. www.reuters.com /muj34s
HOLIDAY WOES OR HOLIDAY HOPES?
Back-to-school shopping is the second-largest retail spending season behind the holiday period of November and December. Early autumn momentum can also indicate how U.S. shoppers will respond to holiday spending.
September sales were "positive signals," said Janet Hoffman, managing director of Accenture's retail practice.
"The consumer has done a great job of focusing on their savings, reducing their debt and they are back in the market place, shopping. But they are choosing where they are going to spend their money," she said.
Meanwhile, new claims for U.S. unemployment benefits rose less than expected last week, hinting at an improvement in labor market conditions.
Holiday season forecasts have largely been tepid as the economy takes its toll on consumer sentiment. The National Retail Federation expects November and December sales to rise 2.8 percent after a 5.2 percent gain in 2010.
NPD Group Chief Industry Analyst Marshal Cohen said he expects holiday sales to rise just 1.5 percent to 2 percent.
Others were more optimistic.
"Despite being buffeted by the winds of inflation, Irene and unemployment, this back-to-school season was the best since 2006," said Craig Johnson, president of retail consultant Customer Growth Partners.
Back-to-school sales from July to September rose 6 percent based on his firm's review, hovering just below its forecast of 6.2 percent.
A 5 percent to 6 percent holiday season gain "is clearly in reach," Johnson said.
Retailers also are preparing for the holidays by keeping inventories lean to avoid the margin-sapping deep discounts they were forced to take in 2008 and 2009.
Port of Long Beach, California, Executive Director Richard Steinke said retailers were being cautious about building up inventory. In August, imports going through the port -- which is a major hub for goods coming from Asia -- were down more than 10 percent.
"This traditional gearing up for the holiday season by retailers may not be happening in 2011," Steinke said in a meeting with Reuters reporters.
EXCLUSIVE GOODS IN DEMAND IN SEPTEMBER
Retailers are doing what they can to appeal to shoppers such as Joanna Polowitz, who said she lost her job a month ago and thinks the economy is getting worse.
"I'm definitely holding back, only buying necessities, socks for my son, food because it's reasonable here," Polowitz said at a Walmart in North Bergen, New Jersey, on Wednesday. "We're buckling down, not going to dinner as much."
Kohl's said it attracted more shoppers as it launched Jennifer Lopez and Marc Anthony clothing lines.
Target saw a rush for the Missoni line it launched on September 13 that even crashed its recently updated website. [ID:nS1E78C20S] The discount chain said children's clothing was one of its strong categories.
"One of the messages is that new launches can drive spending at stores," said Michael Niemira, chief economist of the International Council of Shopping Centers.
Sales figures were lifted as chains raised prices to offset higher commodity costs, but traffic slowed, a concern heading into the holidays, said Joel Bines, a managing director of consulting firm AlixPartners.
Chains catering to teens, young women and families such as Zumiez Inc, Buckle and Limited Brands did much better than expected. Target Corp and Kohl's Corp, each with new exclusive lines, also topped Wall Street's forecasts.
Others in the same categories, such as Wet Seal and JC Penney, fell short of expectations. The largest percentage decline was a 4 percent drop at Gap Inc.
The tally gives a glimpse into consumer spending, as the retailers that issue monthly reports account for a small fraction of overall sales. Wal-Mart, Home Depot, Best Buy, Abercrombie & Fitch and other big chains do not issue monthly sales.
(Reporting by Jessica Wohl in Chicago, Phil Wahba in New York and Nivedita Bhattacharjee in Bangalore; Editing by Maureen Bavdek)