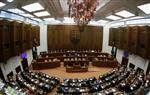 BRATISLAVA/BRUSSELS (Reuters) - Slovakia finally ratified new powers for the euro zone's rescue fund on Thursday, the last country to do so, clearing the way for a bolder effort to arrest Europe's sovereign debt crisis, which threatens global financial stability.
-
By Martin Santa and John O'Donnell
The vote came 10 days before a European Union summit called to approve a "comprehensive strategy" to fight the crisis, expected to include action to reduce Greece's debt burden, a plan to strengthen European banks and measures to stop contagion spreading to larger euro zone economies.
The Slovak parliament approved the plan to bolster the European Financial Stability Facility (EFSF) after voting to hold early general election as demanded by the opposition. A junior partner in the ruling coalition brought the four-party center-right government down on Tuesday by abstaining in a confidence motion linked to increased powers for the EFSF.
Weeks of haggling over the EFSF in Slovakia and over Finnish demands for collateral on loans to Greece unsettled financial markets and highlighted the fragility of a euro zone decision-making system that requires unanimous agreement.
Jean-Claude Juncker, chairman of the Eurogroup euro zone finance ministers, said he hoped Greece would be granted the money it needs and was expecting a report supporting that from the troika: the European Central Bank, International Monetary Fund and the EU.
"We'll be given the troika report by mid-next week... I don't know all the elements of content of the reports that will be given by the troika, but I'm really optimistic that we'll decide to have the sixth tranche being launched," he said after a meeting in Brussels with Greek Prime Minister George Papandreou and European Council President Herman Van Rompuy.
The United States, Japan, non-euro Britain and other major powers have voiced impatience with Europe's sluggish crisis management and appealed for more decisive action to avert danger to global economic recovery.
In another potential boost for the euro zone, sources preparing for a G20 finance ministers' meeting in Paris said most of the BRICS emerging economies favor bolstering the IMF's capital base to contribute to a financial rescue for Greece.
"We have said this before and have conveyed this again, that if emerging economies and the BRICS are called upon to contribute, we can do it via the International Monetary Fund," one of the sources said. "India is open to it, China and Brazil are also okay with the idea as well."
Russia and South Africa are the other BRICS countries.
Under an emerging plan due to be approved at the October 23 EU summit, banks could be given up to six months to strengthen their capital, allowing them time to raise funds privately in the hope of averting another damaging credit crunch.
EU officials said weak banks may get this time to bolster their balance sheets and shore up investor confidence after a rapid health check is concluded.
"A three- to six-month deadline is being considered," said one EU official, speaking on condition of anonymity, saying that banks were being encouraged to tap private investors or sell assets rather than turn to governments. "No decision has been taken."
The timing leaves questions about how soon banks might need to take writedowns on Greece and withstand the possible fallout from a Greek default.
Athens is trapped in a deep recession and fighting to control a public debt expected to reach 162 percent of gross domestic product this year, which many economists predict will end in default.
RELIEF
The Slovak decision was a huge relief for policymakers keen to start using the 440 billion euro ($600 billion) fund's new scope to buy government bonds, recapitalize banks and give precautionary loans to states at risk of being shut out of capital markets.
"The EFSF provides us with a stronger, more flexible tool to defend the financial stability of the euro area," European Commission President Jose Manuel Barroso and European Council President Herman Van Rompuy said in a joint statement.
The European Central Bank has so far borne the brunt of financial firefighting, buying 163 billion euros in peripheral sovereign bonds to try to stabilize markets and bring down the borrowing costs of Italy and Spain, the third and fourth largest economies in the euro area.
Outgoing ECB President Jean-Claude Trichet has made clear the bank is keen to shed that burden once the enhanced rescue fund is fully operational, although EU officials say ECB support will still be needed in the capital markets.
"After the successful completion of all political approval procedures, the EFSF and its Board will finalize quickly all necessary guidelines and procedures to be able to use the new instruments in the near future," Klaus Regling, the chief executive of the fund said in a statement.
The EFSF said that any decision to leverage the fund would not endanger its triple-A credit rating, based largely on Germany, France and other AAA-rated euro zone sovereigns.
Christophe Frankel, its chief financial officer, said: "Any decision to use EFSF's capacity more efficiently will not lead to an increase in guarantee commitments from the Member States and there will therefore be no consequence on the EFSF's triple A credit rating."
EU officials said the most promising option for leveraging the fund would be to use it to insure the first 20 percent of losses on euro zone sovereign bonds to enhance security for investors buying Italian or Spanish bonds.
Juncker repeated on Thursday that private sector holders of Greek bonds may have to accept bigger losses than the 21 percent agreed in July.
EU officials say private bondholders are likely to face losses of up to 50 percent on the value of their holdings in a renegotiation of a "voluntary" agreement on private sector participation in a second Greek bailout package.
Germany and other north European creditor states want banks, insurers, pension funds and wealth management funds to contribute more than the 50 billion euros envisaged in the July 21 deal to make Greece's debt more sustainable, they say.
The EFSF's Regling said Italy and Spain had the capacity to raise their own financing on the markets. He also voiced confidence that Ireland, one of three euro zone states under EU/IMF bailout programs, would be able to return to debt markets in 2013.
(Additional reporting by Michael Winfrey in Bratislava, Philipp Halstrick in Frankfurt, Charlie Dunmore in Brussels, Abijit Neogy and Daniel Flynn in Paris; Writing by Paul Taylor; Editing by Louise Ireland)