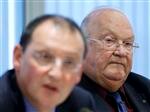 BRUSSELS/PARIS (Reuters) - Europe's banks expect to be told to raise more capital under a Franco-German effort to solve the euro zone debt crisis after the state rescue of Franco-Belgian lender Dexia SA.
-
By Philip Blenkinsop and Lionel Laurent
Dexia agreed to the nationalization of its Belgian retail bank and secured 90 billion euros ($121 billion) in state guarantees, in a rescue that raises pressure on other euro zone countries to strengthen their banks.
German Chancellor Angela Merkel and French President Nicolas Sarkozy said on Sunday they would tackle Greece's woes and agree how to recapitalize the regions' banks by the end of the month, but they declined to reveal details of their plan.
"We expect the EU to come up with a minimum core Tier One (capital) level under certain stress scenarios and a higher one without any stress. Then banks will be asked to reach this level in a short period of time," said a senior banker in Germany.
Banks were not involved in talks yet with governments on likely capital needs, several bankers said, although options were being considered in case they need to act quickly.
But they were concerned at just how much more capital they will be called on to find, after many urged Europe's leaders to follow the "bazooka" approach of former U.S. Treasury Secretary Hank Paulson, who told banks they must raise capital.
British Prime Minister David Cameron told his euro zone peers to adopt a "big bazooka" solution.
"If capital is to have any chance of stabilizing the banks, it will need to be large: we would start with the IMF's 200 billion euros," said Alastair Ryan, analyst at UBS. This could involve euro zone governments owning 40 percent of the sector if such a sum was to come from the state, he estimated.
Under Dexia's rescue plan, Belgium is to pay 4 billion euros to buy Dexia Bank Belgium, which has 6,000 staff and deposits totaling 80 billion euros from 4 million customers, and secured guarantees from France, Belgium and Luxembourg to underpin a 95 billion-euro loan portfolio that the bank is to now run down.
As part of the bank's break-up, Dexia is also in talks to sell its Luxembourg arm to members of Qatar's royal family. The Qatari investors also bought Belgian bank KBC's private bank on Monday.
Dexia shares resumed trading and after briefly crashing as much as 36 percent, pared losses to close down 4.7 percent at 0.81 euros, valuing the bank at 1.6 billion euros.
SIGNIFICANT LOSSES
Dexia has a global credit risk exposure of $700 billion --more than twice Greece's GDP -- and its rescue has stoked investors' concerns about where other troublespots may lie.
The lender faced significant losses on its Greek government debt holdings, but, more significantly, was shut out of wholesale funding markets, which it was highly reliant on to finance its long-term loans to municipal borrowers.
European banks have faced a significant deterioration in access to wholesale funding markets, which is likely to continue to drag on bank earnings, said Huw van Steenis, analyst at Morgan Stanley.
The European Central Bank last week stepped up its liquidity support, but may need to provide two to three-year funding support to help with the 1.7 trillion of bank funding due to be rolled over from 2012 to 2014, van Steenis said.
There remain disagreements on how euro zone countries will fund any rescue effort, however. Paris wants to tap the euro zone's 440 billion euro European Financial Stability Facility rescue fund for any recapitalization of the banks, while Berlin is insisting the fund should be used as a last resort.
This is in contrast to China, where a unit of the state's wealth fund on Monday started to buy more shares in big banks as a sign of support for the sector. [ID:nL3E7LA1CN]
PAINFULLY DILUTIVE
Europe's banks are wary of making further cash calls on their shareholders, as low share prices would make it painfully dilutive for existing investors, and private sector investors appear reluctant to ride to the rescue while the sovereign debt crisis persists.
Capital could be raised through the issuance of preference shares or other hybrid structures, possibly similar to those used by French banks in 2008, which may not need to be used but would act as a buffer to reassure investors.
France's banks are seen as among those most in need of capital and weekend reports said BNP Paribas SA and Societe Generale might agree to capital injections as part of a wider plan.
French banks denied they needed capital, however, saying market fears were a result of the health of a few countries rather than the banks. "Certain states must regain the trust of investors ... a potential strengthening of European banks' capital would not be a response to this issue," the French Banking Federation said.
Unicredit SpA and other lenders in Italy, Spain, Portugal and Germany are also seen at risk of needing capital.
But Deutsche Bank AG is fighting against any blanket recapitalization, saying it has decent capital levels and sound profitability. "We will try to convince the government that not every bank needs fresh capital," a senior source at the bank said.
But another banker said there was a growing feeling many banks may be included: "The well-managed German banks and French ones should just say yes, let's all do it together."
The STOXX Europe 600 banking sector index closed up 2.3 percent, but has tumbled by a quarter since the end of June as euro zone leaders failed to get to grips with the sovereign debt crisis.
The burden of bailing out Dexia led Moody's to warn Belgium that its government bond ratings may fall, but the ratings agency said it should have no impact on France's AAA rating. Standard & Poor's confirmed the ratings of Belgium and France.
(Additional reporting by Robert Jan-Bartunek, Philipp Halstrick in Frankfurt, Christian Plumb in Paris and Steve Slater and Sophie Sassard in London; Editing by Leila Abboud and David Holmes)