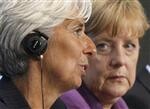 DUBLIN/FRANKFURT (Reuters) - European banks may need more than 100 billion euros ($135 billion) to withstand the sovereign debt crisis, Ireland estimated on Saturday ahead of a meeting between German Chancellor Angela Merkel and French President Nicolas Sarkozy to work out how to recapitalize the lenders.
-
By Carmel Crimmins and Jonathan Gould
The falling value of banks' holdings of government debt from Greece and other euro zone periphery states has already provoked the implosion of Belgian lender Dexia, adding urgency to the Merkel-Sarkozy talks.
"There is a high risk that this crisis further escalates and broadens," German Finance Minister Wolfgang Schaeuble told German paper Frankfurter Allgemeine Sonntagszeitung in an interview released in advance of publication on Sunday.
Germany and France have so far been split over how to strengthen shaky lenders and fight financial market contagion that may follow a possible Greek default.
Paris is keen to tap the euro zone's 400 billion rescue fund, the EFSF, to recapitalize its own banks, while Berlin is insisting the fund should be used as a last resort.
The International Monetary Fund (IMF) has said European banks need 200 billion euros in additional funds.
Irish Finance Minister Michael Noonan said the capital needed to bolster banks' cushions was likely to come from a variety of sources but the total bill would be large.
"I think there is general agreement that it will be significantly in excess of 100 billion (euros)," Noonan told reporters on the sidelines of an economic forum in Dublin.
"I know that some of the big German banks that I was talking to personally intend raising money on the market so it will be private funding. Other banks would like to avail of the EFSF fund. Other banks will rely on their sovereign governments to provide the capital so there is going to be a range of ways of doing it," he said.
Regulators worry that forcing a raft of major lenders to take state aid would not be the best use of Europe's limited capital resources, while banks fear than singling out only some lenders for extra support could heighten market worries about weaknesses at individual banks.
German newspaper Frankfurter Allgemeine Zeitung on Saturday cited financial sources as saying France's five-biggest lenders would agree to take 10-15 billion euros in funding from the state but also wanted to see Germany's No. 1 lender Deutsche Bank plump its capital cushion.
But a senior French banking source shot down the idea that French banks could be pushing for state aid, saying the Frankfurter Allgemeine Zeitung report was baseless.
"I don't know what game the Germans are playing... This is wishful thinking," the source told Reuters, asking not to be named.
Deutsche Bank Chief Executive Josef Ackermann is against any role for the state in his own bank's capital position and has ruled out a capital increase.
A Deutsche Bank spokesman on Saturday referred to Ackermann's long-standing public position and declined further comment.
The chief financial officer of Deutsche Bank unit, Deutsche Postbank, said he expected the 21 percent haircut on Greek bonds that international banks agreed to take as part of a EU-brokered debt relief deal in July would not be enough.
"Therefore we would expect renewed writedowns in the third quarter," Postbank's Marc Hess told Boersen-Zeitung newspaper.
Banks' need to gird their capital bases is also leading some to merge, such as Spain's No. 5 retail bank Banco Popular, which launched an all-share bid for its smaller rival Banco Pastor on Friday.
FIGHTING FIRES
Sarkozy is due to arrive in Berlin on Sunday afternoon and hold a working dinner with Merkel in the evening, amid signs that conditions for resolving the crisis are getting no easier.
Slovakia's coalition government was in deadlock on Saturday over talks on ratifying a strengthening of the EFSF rescue fund, with a junior party insisting on conditions for its support.
Euro zone minnows Slovakia and Malta are the last countries holding up expansion of the EFSF mandate, which is needed to fight the sovereign debt crisis [ID:nL5E7L806G]
Angry Greeks have taken to the streets to protest government efforts to slash spending, boost taxes and privatize state companies but Belgian Finance Minister Didier Reynders said the pain could not go on indefinitely.
"This is not acceptable on a political, social or even economic level: we do not want the cure to kill Greece," Reynders told Greek newspaper Proto Thema in an interview.
Meanwhile, Greece's representative at the IMF said the country's borrowing needs will be higher than currently projected due to a tougher-than-expected recession and the outcome of a debt agreement with private sector creditors.
"This financing gap will have to be covered either by increasing the 109 billion euro loan agreed on July 21 or through a restructuring of private debt," Panagiotis Roumeliotis said in an interview in financial daily Imerisia.
EU leaders agreed in July to provide Greece with a second bailout of more than 109 billion euros to help the country service its debt through to 2020. ($1 = 0.741 Euros)
(Reporting by Jonathan Gould, Sarah Marsh, Carmel Crimmins, Lorraine Turner, Christian Plumb, Philip Blenkinsop, Andreas Rinke and Harry Papachristou; Editing by Alison Birrane)